2010.04.17 Saturday
Trip to L.A.
先日ちらっと書きましたが、西海岸の方へ旅行に行ってきました。行き先はロサンゼルス、グランドキャニオン、ラスベガス! NYとは全く違うアメリカを見てきました。
しかしいきなり初日、信じられないことが起こりました。
なんとカメラを無くしてしまったのです!!! いったいなぜ、、、?? 僕ににとってカメラはまさに命とも言うべき存在。。写真がないとこのブログも書けません。。とまあ、凹んでいてもしょうがないので、今回の旅は自分の目で見て体感することに集中することにしました。というわけでこの旅の写真はいっしょに行った友達からもらった写真でレポートします!(涙)
Before I referred to my trip that I went to west coast a few weeks ago. Our directions were L.A., Grand Canyon and Las Vegas! I saw America totally different from NY.
But the first day, something disbelieving happened. I I I lost my camera!!! Why!!??
A camera is my life, I can't update this blog without my camera. Anyway, I can't help it if I was down, so I tried to concentrate all my thoughts on feeling trip. Therefore I'd like to report it with some pictures my friends took!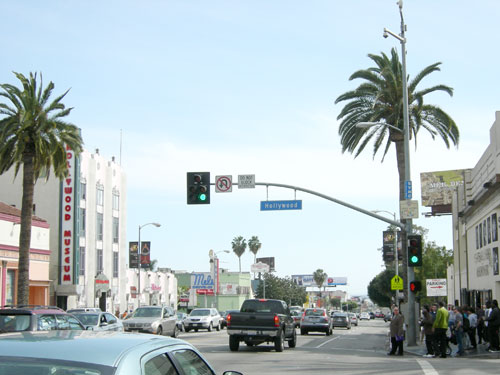 今回はまずロサンゼルスについて書きたいと思います。ロサンゼルスといえばハリウッド。様々な映画の施設やエンターテインメントの街です。
First, I'd like write about L.A. People associate L.A. with Hollywood. This is the entertainment city that has many kinds of movie facilities.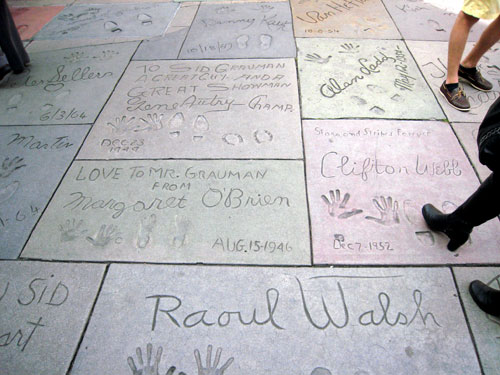 チャイニーズシアターの前には有名人のサインや手形がいっぱい。
There are lots of famous actor's handprints, which are set in cement plates along with their signatures.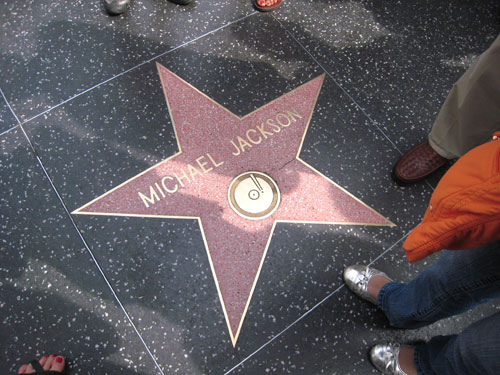 歩道に長く続く星の数々。映画スターやミュージシャンなど約2500人の名前があるそうです。
There are lots of stars on the street. I heard there are 2,500 stars of actors or musicians, etc.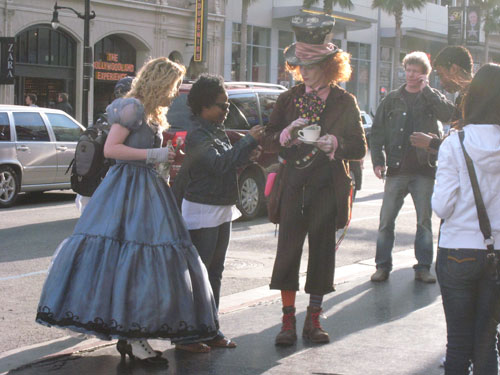 現在上映中のアリスに扮した人や、いろんなキャラクターに仮装した人がいました。
There were many kinds of characters include the guys who disguised as characters of Alice Wonder Land.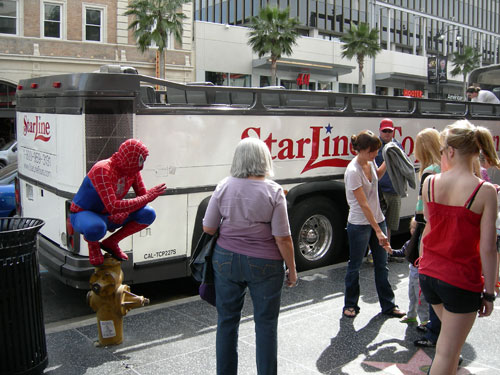 ちょいぽちゃのスパイダーマンが面白かったです(笑)
It's funny there was a chubby spiderman.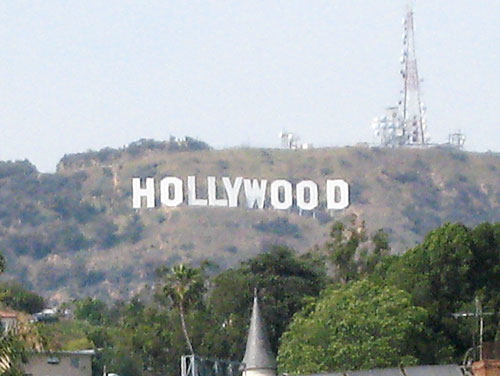 そして! 若干遠目からでしたが一番見てみたかったこのハリウッドサインが見れてよかったです。
その他ダウンタウンにも行ってみたのですが、意外とあんまり何もなくてびっくり。まあ、一日だけでは本当のLAはわからないんだとは思いますが。
Finally I got Hollywood sigh I really wanted to see!
I went to downtown but was surprised because there was nothing special. I know, we can't understand everything in L.A. in a day.