2012.05.22 Tuesday
Exhibition info. 展覧会今日からはじまります!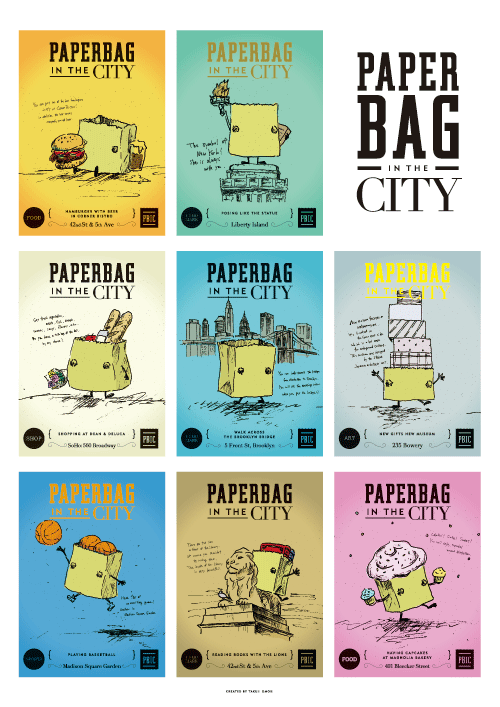 ニューヨークでの体験をもとにキャラクター、ロゴ、ポスターをデザイン。
ニューヨーク生活の中で印象に残っているひとつが「紙袋」です。意外にコンビニが少ないマンハッタンではストリートやデリでコーヒーやベーグルを調達するのが日常ですが、その際に登場するのがおなじみのクラフトの紙袋。
ざっくりといろんなものを包み込んでくれる茶色の袋は、全ての人種を受け入れてくれるニューヨークそのものを見ているようでした。そんな大都会の中にとけ込み風景の一部となっている紙袋をモチーフにキャラクターを作り、そのキャラを僕自身が訪れた場所や思い出深い場所に登場させ、ひとつのビジュアルを制作しました。
タイトルは「PAPERBAG IN THE CITY」。
ギャラリーではそれらを組み合わせたポスター数点を展示します。
会場にて卓上にも壁掛けにもなるオリジナルデザインカレンダーをお配りする予定です。
Design Style Selection Part 1 ~響感の創造〜
2012. 5.22(tue)-5.26(sat)
東京都中央区日本橋茅場町2-17-13 第2イノウエビル #301・401
My exhibition is going to start today!
I designed character, logo and posters with my experiences in New York.
I named it "PAPERBAG IN THE CITY". This is a story of a paper bag in NY. He's the main character.
One of my most impressive things in NY is a paper bag. Because there is few convenience stores than Tokyo. So New Yorkers often go to
vender on the street or deli to
get some coffee and bagel. At that time, they use a paper bag. The brown bag takes everything looks like New York which can accept all ethnic groups. That's why I decided to make something by a paper bag as a motif. Finally
I created a character and then, I designed some graphics using him with the places I visited or impressed.