2011.09.01 Thursday
Taco Bell
タコベルというメキシカンフードのファーストフードのお店があります。
タコスが好きな僕はよくここにも行ってました。メニューはタコスのセットや、トルティーヤを使ったメキシコ料理を出してくれます。メキシコ料理といえばスパイスが決めてなので、セルフで取る調味料コーナーにはポーションのスパイスが大辛・中辛などいろいろ置いてます。
There is a Mexican fast food chain which is called Taco Bell.
I like taco, so I often go there. Taco Bell provides some Mexican foods such as tacos sets and other foods with tortilla. For Mexican foods, spices are essential, so they serve some type of spices at the seasoning corner such as hot, spicy and mild.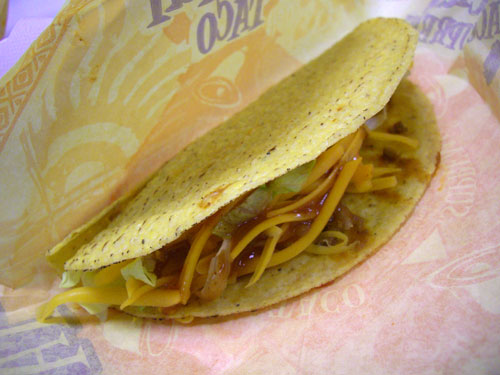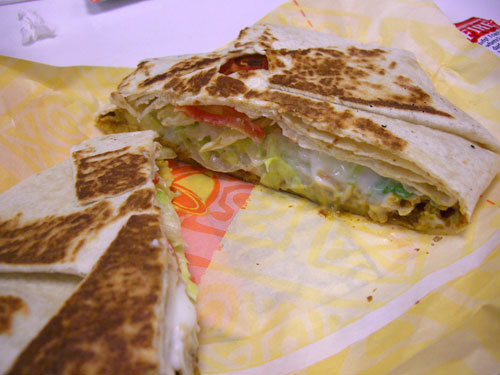 料理はどれも美味しかったです! タコベルはマクドナルドやバーガーキングなど数あるハンバーガーチェーンと差別化を図るために、バンズではなくトルティーヤを使うことをポリシーとしているようです。
そのため「Think Outside The Bun(バンズを脱して考える)」という言葉をブランドスローガンに掲げています。
それとブランドカラーは紫です。日本でヒットするかどうかはわかりませんが、個人的に上陸するのを熱望しています!
ちなみに聞いた話では、一部のアメリカでは飲んだ後のシメにはメキシコ料理が定番だそうです。
イギリスではケバブだそうです。
日本ではもちろんラーメンですよね。おとなり韓国でもラーメンだそうです! 国や文化が違えばこんなところも違うって面白い。
The menu is good! Taco bell seems to have a policy of using
tortilla instead of buns to be different from other hamburger chains such as Mc Donald's and Burger King, etc. For this reason, Taco Bell says "Think Outside The Bun" as its brand slogan.
In addition, its brand color is purple. I'm not sure whether it will be hit in Japan, I'm extremely eager to see Taco Bell's launching in Japan!
In passing, I heard in some parts of America, it is common for people to go to a Mexican Rest after drinks. Just like having Kebab after a drink in the UK and having ramen after a drink in Japan and Korea! It's very interesting if a country and its culture change as these aspects of social life would also change!