2011.09.10 Saturday
Dunkin' Donuts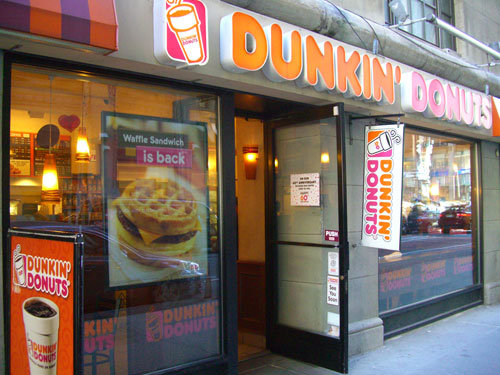 日本にはなぜか無いのですが、ニューヨークには至る所にダンキンドーナツというドーナツチェーンがあります。
何度も言いますが、例のごとくかなり甘いです! でも何度も行ってると不思議と慣れてくるのが怖いです。。
Dunkin' Donuts has peppered New York City. But
I haven't seen one in Japan.
I wonder why?
I have to say again and again, it tastes so sweet! But it's scary that I'm gradually getting used to its taste after visiting it for a few times.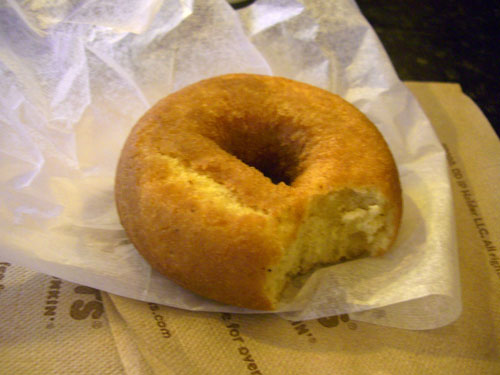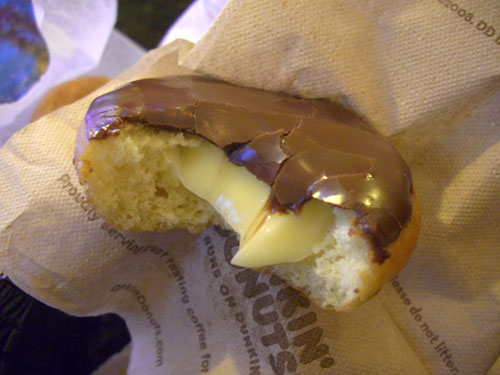 最初のうちはオーダーに少し手こずりました。というのもドーナツが自分でトレイに乗せるタイプでもなく、カウンター下のショーケースに入っているわけでもなく、なぜかカウンターを挟んで、店員の後ろにドーナツが並んでいます。なので名前もわからないので、ほしいものを雰囲気で「そのチョコレートの右のやつ」みたいな感じで注文してました。
とは言ってもコーヒーも安いしよく行ってました。
そのコーヒーを頼んでも何やら店員が聞いてくるのですが最初は何を言っているのか聞き取れず。。何とかわかったのが「砂糖は入れるのか?」と聞いていたようです。日本では普通注文後に自分で入れるのでまさか最初から入れてくれるとは思いもよらなかったので焦りました。慣れてくると「レギュラー」と注文するとミルクと砂糖が入ったものが出てくることがわかりました。
At first, I had difficulty in placing my order. The doughnuts display is located behind the cashier which customers can't see clearly the doughnuts. I don't know why they arrange it that way. So, I cannot see the label from where I stand, so when place my order I have to say to the staff, "I want to have that one
on the right of the chocolate."
Anyway, I often went there because the cost of coffee is reasonable. One time, when I ordered coffee, the staff asked me something I couldn't understand.
At last I managed to get what he was saying, he seemed to ask me, "Do you want some sugar?" U
sually
in Japan we put the sugar by ourselves. I felt awkward because I never thought he would put it in my coffee. After some time when I got back to Dunkin' Donuts, I knew that the "regular" coffee is served with sugar and milk.